At East Boldon Junior School we strive to
'Be the best that we can be.'
This can be seen through four simple values:
Be ready to learn
Be prepared to be challenged
Be responsible for our actions
Be kind to our school family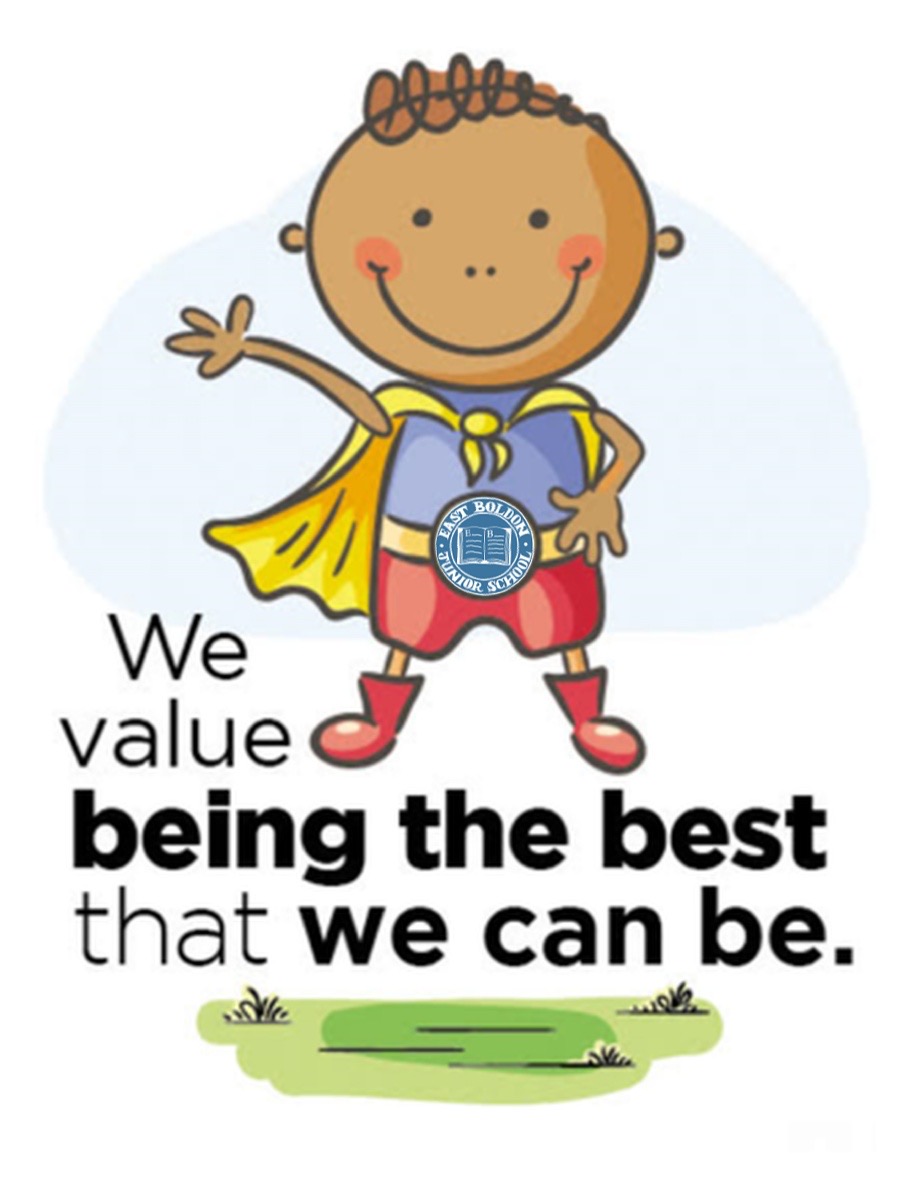 We are a happy and secure school where everyone is valued and has every opportunity to realise their full potential.  
At East Boldon Junior School we believe in the value of every child and adult who enters our doors. By feeling valued and respected, as an individual, we seek to encourage each person to show respect towards one another, joining together to build a happy and secure community.
Our school aims to consider the uniqueness and individual needs of its pupils by delivering a broad, balanced differentiated and relevant curriculum. Each child is considered as a whole person who, through their school experience, will develop the skills, concepts and attitudes needed for the future . We aim to prepare children to reach their full potential as responsible citizens.
Our school aspires to value everyone associated with it, irrespective of age, position, race, gender, background or ability. We endeavour to motivate, support and inspire children by educating them in a safe and secure environment.
Our Achievements
Congratulations to the staff and children on achieving the Sports Mark Gold Level again in 2019. The school has a strong commitment to sport and we have achieved the gold or silver award  every year since 2014. This recognises our continuing commitment to providing high quality sport and PE for all.
We are very happy to announce that we have been awarded the ICT Mark for the second time.This recognises that high standards of teaching and learning in ICT are preparing our pupils to become 21st century citizens.
East Boldon Junior School also holds the British Council International School Award. This recognises the embedding of international learning within the curriculum, teaches young people about the world around them and encourages global citizenship. This award follows the Gold Quality Mark recognition for excellence in the teaching of Modern Foreign Languages.
Congratulations to Mrs Orrock, our Cook in Charge, on an Outstanding Environmental Health Report.
For more information about the school,e.g., curriculum, uniform, Governors,  please refer to the school brochure.