School Council is a team of pupils who have been democratically elected by their classes to attend meetings and decide how we can help to improve our school. Just as in our Local Councils and in Parliament, we present our campaign and our classmates vote for us. We attend regular meetings and when we have ideas, we talk to Mr Shenton about how we can improve our school.
We will keep you up to date with our ideas for events and ideas for change.
Keep Britain Tidy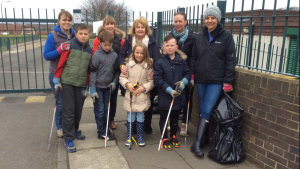 Dear Readers,
This month is the annual Keep Britain Tidy. However this year it is even more important to clean up our towns and villages as it is the ninetieth anniversary of this big clean up. So I and many more people across Britain plead for you to pick up a litter picker, get out an old broom or simply pick your own litter up and make Britain uncluttered.
If you want to help but don't know how, come to the East Boldon Junior School main gates on the 19th of March. It is taking place from 10-12 o'clock. If you are under 16 please come accompanied with an adult. If you have any suggestions on places in East Boldon that may need cleaning up, they would be gratefully received. Only the people of East Boldon may take part in this event however if you do not live in East Boldon but would like to help, join in with your own villages clean up if they are holding one.
You may have already heard of this event as Clean for the Queen to celebrate the Queens 90th birthday and the 90 years of Keep Britain Tidy. Though this event has been named for the Queen you should not feel as though you are doing this for someone else you most definitely are not. The whole reason for this event is so that you can feel satisfied at your village's state.
If you are in any doubt of why you should do this or if you feel as if you are not as enthusiastic as you should be just imagine your village spotless. You would be able to walk your dog without fearing they will snuffle up any rubbish, let your toddler play in the park not worrying about them picking up the rubbish on the floor or simply taking a stroll in the park without being anxious of stepping on any unpleasant surprises. Thank you for taking the time to read this,
The pupils of East Boldon Juniors.