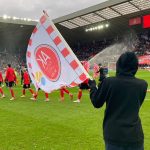 Do you want a once in a lifetime chance to stand on the pitch at the Stadium of Light and welcome the teams by waving Sunderland flags at a League One match?
Are you free on Saturday 11th December to attend the Sunderland v Plymouth Argyle match?
If your answers to the two questions above are both yes and this sounds like a dream come true for you, then follow the instructions below.
Ten pupils and at least two members of East Boldon Juniors staff will all get:
– A tour of the stadium.
– Photograph opportunity in the dugouts before the game.
– A free ticket to enjoy the game together.
Parents will drop their children off before the game and pick up afterwards. Parents may want to purchase tickets and be in the crowd but unfortunately they won't be to sit with their child during the game.
As an extra bonus, six of the ten lucky pupils will stand on the pitch bearing flags, welcoming the teams at kick off. These six children will be drawn at random out of the ten successful applicants. It is a shame we can't award all ten this extra special role, but we are only allowed six on the field of play.
Boys and girls – write to us in 50 words or less to tell us what this opportunity would mean to you. Mr Shenton has a form for you to complete. Parents – please send him a message on Dojo and he will send a form home.
Deadline for entries is Monday 22nd November. The draw will be made with the pupils in assembly.