SWISH! Nothing but net! Basketball Finals 2018
Following a series of coaching in school, our Year 5 Basketball Team reached the regional finals and earned the opportunity to perform at half time during the Newcastle Eagles v Leicester Riders. We won our semi final, but had to settle for silver in a hard fought final. Well done, East Boldon!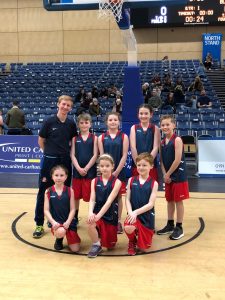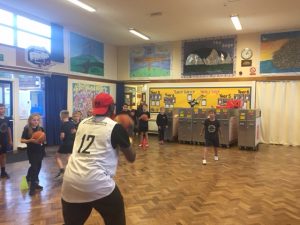 Basketball Finals  January 2017
Last Friday the Basketball team took part in the South Tyneside Basketball Finals at Sports Central in Newcastle. They won their semi-final match but unfortunately were beaten in the final. However, the team and Mr Wilson thoroughly enjoyed the experience and we are very proud of them.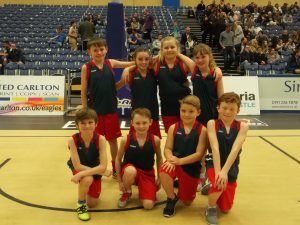 South Tyneside Hoops 4 Health Tournament 2016
What a fabulous day we had with the children showing amazing skill, effort and sportsmanship throughout.
Our four teams were placed in 4 different groups, each containing 6 teams.  All our teams did extremely well and a remarkable 3 teams qualified for the last 16 and the knock out stages. East Boldon Teams 1, 2 and 4 remarkably won four out of five of their group games and finished on 12 points. East Boldon Team 3 also did a great job and won two, drew one and lost two, meaning they finished 4th and had 7 points on the board.
East Boldon Team 2 played their knock out game against Forest View and despite many chances narrowly lost 2-4. Regardless of this they had a brilliant competition. Well done Team 2.
East Boldon Team 1 and 4 met in a true local derby as they faced one another. Team 4 went ahead with a lovely basket but Team 1 with a couple of minutes to go equalised. The final whistle went and so it went to a shoot-out. Samuel, who was one of the top scorers of the whole competition, went up against Lugh in a nail-biting head to head. After both boys had a free shot Lugh came out on top which meant Team 4 were eliminated, and Team 2 progressed to the next round. Again an amazing tournament Team 4, well done!
All Team 1 had to do now was win one more game and they would qualify for the Hoops 4 Health South Tyneside Final at Sports Central. The only obstacle in their way was Forest View who had already defeated our East Boldon Team 2. Thankfully, revenge was in the air and our spectacular Team 1 defeated their opponent in a hard fought 2-0 victory. Celebrations immediately begun with smiles all around!
Well done everyone. This successful competition not only reflects the great progress in our P.E sessions and lunchtime clubs this term, but also shows what can be achieved through great effort and a positive attitude.
We look forward to seeing many of our East Boldon community at the finals on Friday 6th January.
Come on East Boldon!!!
Mr S.Wilson
P.E Coordinator