Preparing children for life in Modern Britain and the Global Community is an important part of our curriculum. Through Modern Foreign Languages, history, geography, RE and PSHE we aim to teach an awareness of the rich cultural diversity of the world and prepare our children for the opportunities, responsibilities and experiences of later life.
The teaching of MFL is led by our MFL Co-ordinator, Mrs S Stidolph. French is taught throughout the school, often through games and songs Teaching staff develop their own knowledge through LEA training sessions, and we appreciate the support we are given by specialist language teachers from local Comprehensive Schools.   We were very proud to be awarded the Gold Quality Mark for excellence in the teaching of MFL in 2014.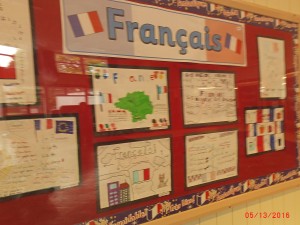 Mrs Stidolph also runs a successful Spanish lunchtime club.
At East Boldon Junior School we have worked hard to ensure that there is an international dimension firmly embedded into our school ethos. We were very pleased to be awarded the British Council International School Award in October 2013, and again in 2018, as recognition of the embedding of international learning within the curriculum, teaching young people about the world around them, appreciation and tolerance of the diversity of the people of the world, and encouraging global citizenship. Here are some examples of the international activities which have taken place over the course of the school year.
               European Christmas Tree Decoration Exchange, December 2016
Pupils in Class 4 have really enjoyed taking part in the  European Christmas Tree Decoration Exchange.
The aim of the project is to educate young people in    primary schools about other countries in the EU. By   making Christmas tree decorations and putting together information booklets about Christmas celebrations in their own country, pupils have been able to discover more about their own culture and traditions.  Receiving decorations and other materials from all across Europe has given them the opportunity to learn about Christmas customs and traditions in other countries. Taking part in the project has also given them the chance to learn about other aspects of each country such as language, geography, history and culture and it has given them an understanding of what it means to be a citizen of Europe.
Chinese New Year
Pupils enjoyed learning about Chinese New Year and celebrated with a special lunch made by our talented dinner staff. We learnt about the traditional new year celebrations and how the years got their names. 2017 is The Year of the Rooster. All children were involved in making decorations and the hall and dining area looked fantastic.
Rangoli art and hand painting
We loved learning to make rangoli patterns on tiles and we all had our hands painted with henna.
Learning Bollywood dancing was a lot of fun!
Music from around the world
Over the course of the Summer term, to prepare for the 2016 Olympic Games, our Listening music theme is 'Music from around the world'.  The children enjoy listening to, and learning about, music from different places around the globe. We were also treated to a concert by the School's Orchestra who played Brazilian Samba music and as well as traditional music from other countries taking part in the Games.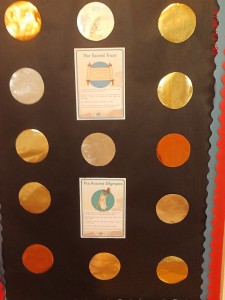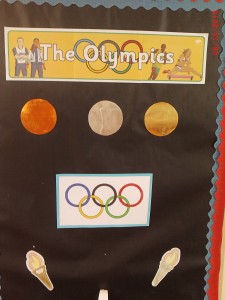 Hindu Nari Sangh
We were delighted to be invited to take part in a multi-cultural festival held at the Customs House in South Shields in June 2014. Our samba drums were very loud but the audience loved it!
We took part again on 25th June this year, performing a Bollywood dance. We enjoyed watching all the performances and were treated to an Indian meal afterwards.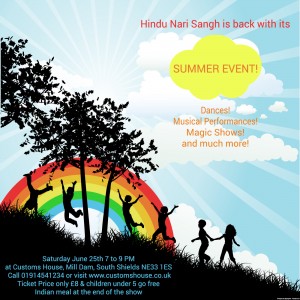 Link with a French primary school
As well as exchanging letters with children from our French partner school 'Ecole Henri Arnould' in Saint-Quentin, some pupils also took part in a video-conference.  The children enjoyed chatting with their friends in France and sang two French songs for them:  'Les jours de la semaine' and 'Il fait froid'.  They also enjoyed learning about the similarities and differences between French and English schools. Their French friends performed a short play in English.
International Artists Project
Our International Artists Project was very popular with the children.  Year 3 pupils enjoyed learning about the life and work of Henri Rousseau.  They drew and painted their own Rousseau-inspired rainforest scenes.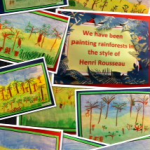 Year 4 children focused on the two French artists, Georges Seurat and Paul Signac, who were both famous for using pointillism – the technique of using dots to create images.  Pupils enjoyed using pointillism to create their own pictures of trees.  Year 4 pupils also studied the work of Swiss-German artist Paul Klee who used lines to create his images
Year 5 p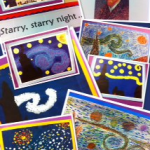 upils studied artwork from Holland.  They focused on 'Starry Night', a painting by the Dutch artist Vincent van Gogh. The children created some beautiful paintings in this style. Year 6 children studied the life and work of the British artist L. S. Lowry.  The children looked at the colours Lowry used and from these they created their own backgrounds.  They then drew figures in the style for which he was famous.
Vive Le Vélo
During the summer term 2015 pupils in Year 5  took part in the 'Vive Le Vélo' project to celebrate the 100th anniversary of the Tour de France.  It was a pilot scheme to promote cycling whilst also encouraging children to learn a foreign language.  Sustrans, a leading UK charity, came in to school to deliver the project.
As well as the children taking part in 'Vive Le Vélo' themed French lessons, teachers, pupils and parents were also challenged to take part in a Tour de France inspired bike race against schools in other local authorities. The more children who rode or scooted to school, the faster the school completed each stage.  Upon arrival they were treated to French delicacies at 'Biker's Breakfasts', during which children were encouraged to order in French.
As the activities were so popular with our Year 5 children we decided to involve other year groups as well.
This summer we took Year 4 pupils to the Open Zone in South Shields. They took part in a carousel of activities using their knowledge of French.  The activities included being recorded in the Green Screen studio singing a French song and creating an animation in French using '2Create a Superstory'. There was also an opportunity for the children to practise speaking French in a French café context.
Pupils thoroughly enjoyed being involved in the activities and it provided them with realistic contexts for their language learning
Mrs S. Stidolph
MFL Co-ordinator