Modern Foreign Languages
Preparing children for life in Modern Britain and the Global Community is an important part of our curriculum.  Through Modern Foreign Languages, history, geography, RE and PSHE we aim to teach an awareness of the rich cultural diversity of the world and prepare our children for the opportunities, responsibilities and experiences of later life.
French is taught in Years 4 and 5 by our Modern Foreign Languages Teacher, Mrs Sarah Stidolph. Year 3 children also enjoy weekly French lessons, which are taught by Mrs Thomas. We are also delighted that our Year 6 pupils are being given the opportunity to learn Mandarin this year. The weekly lessons are being taught by Beth Kirk, a Mandarin teacher from Whitburn Academy.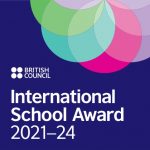 At East Boldon Junior School we have worked hard to ensure that there is an international dimension firmly embedded into our school ethos. We are thrilled to have been accredited with the British Council International School Award for the third time. The award celebrates the achievements of schools that do exceptional work in international education. Fostering an international dimension in the curriculum is at the heart of the British Council's work with schools, so that young people gain the cultural understanding and skills they need for life and work in today's world.
Scott McDonald, Chief Executive of the British Council, said: 'The school has earned this prestigious award through its inspirational international work and links with schools abroad.
The International School Award is a chance for schools to be recognised for their important work bringing the world into their classrooms. This is especially commendable when schools have been deeply affected by the global pandemic. The desire to build on their international work shines through and it is with utmost pride that we celebrate their achievements.
By embedding an international dimension in children's education, these schools are preparing their students for successful lives in the UK or further afield, empowering them to be global citizens, and are creating vital opportunities in an increasingly global economy.'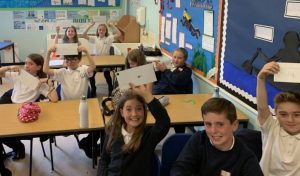 One of the activities for our International School Award application was a letter exchange project. Last year our Year 6 pupils enjoyed writing to pupils in CM1-CM2 at our partner school in Saint-Paul-du-Vernay in France. CM1 and CM2 is the equivalent of our Years 5 and 6.
Before writing letters to their penpals, the children loved learning about their partner school. They found out that the pupils there don't attend school on a Wednesday but on Monday, Tuesday, Thursday and Friday they start at 8:30 and finish at 16:00 and have an hour and a half for their lunch break. They also found it interesting that French pupils don't wear school uniforms and they don't have assemblies.
The children asked their penpals questions about their hobbies and interests, their families and their pets. They were so excited when they received their replies. Some children even decided to exchange email addresses so they could continue writing to each other.