Football 2018
We love sport at East Boldon Junior School and in particular – we love football!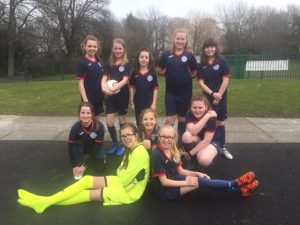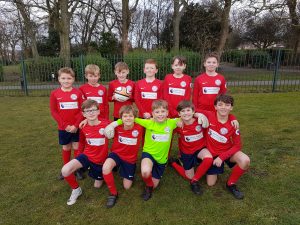 Football League Cup 2017
Manager's verdict
With the league ending we now moved onto the cup competitions with high hopes. We have had a great season so far finishing 2nd place in the league but would like to add some silverware to show recognition to the progress our team has made. Therefore we planned on giving this competition our all.
Our opening game was against Hadrian. Despite this being our first game since the winter break, we started very brightly creating numerous chances. Unfortunately chance after chance went begging and with only minutes left, Ben took a long range strike. The bench began to complain as we thought it was a wasted opportunity and silly to shoot from such a difference but Ben proved us all wrong! It flew with great speed into the top corner to send everyone wild! After this we defended well and picked up the 3 points.
East Boldon Juniors 1- 0 Hadrian School
Our second game was against Forest View, a team we had never faced before. We picked up where we left off with some fine football on show. There was a difference this time though we took our chances with some great goals. A super performance lead to us winning convincingly.
East Boldon Juniors 4 – 0 Forest View School
We then continued the cup against Cleadon. We maintained our high standard of performance but unfortunately couldn't get the goal we desperately sought. Pleasingly, our defensive work was sound and so the game ended in a goalless draw.
East Boldon Juniors 0 – 0 Cleadon Academy
This meant our final game was in essence our cup final. We were joint top with both teams being undefeated in their opening games. Something had to give but we knew if we kept up our amazing football on show we would have a strong chance.
It was a close first half with a few chances either way but Harrison pulled off an amazing save to keep the score at 0-0. Following this, to our sincere delight, we finally converted one of our chances to go in at half time 1-0 up! We knew the hard work had been done, and after not conceding a goal in 3 games so far we were confident that this could be maintained. If so the cup would be ours! Hedworth Lane came out trying their very best but another solid, defensive display meant we secured the three points, and consequently the league cup for the second year running!
East Boldon Juniors 1- 0 Hedworth Lane Primary School
This was a super night for East Boldon Juniors as each and every player played their part in bringing the cup home. We played some super, attractive football and created many chances which was very pleasing to see. In addition, and just as importantly, our defending as a team was exemplary and to not concede in the whole of the competition is an outstanding record.
Well done East Boldon, we are all very proud of you. Let's build on this with more great performances in the remaining cups.
Mr Wilson
End of League Season (Manager's Verdict)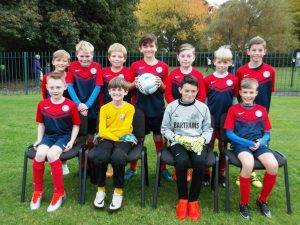 Last night we had our final league games of the season with a slim chance of taking the league crown. It would be a tough ask, but we would give it a go.
Our first game was against Hedworth Lane Primary School who were top of the table and a brilliant side. However we played unbelievably and after scoring a quality goal we then defended like true warriors in the second half to claim an impressive 3 points. We were all delighted and proud of an amazing performance and result!
EBJS 1 – 0 Hedworth Lane Primary
Our second game was against our local rivals West Boldon. Despite having quite a few chances and going ahead in the second half, West Boldon fought back well and equalised. In the last few minutes, with us trying desperately to get the winning goal, West Boldon broke away and sadly got the winner.
EBJS 1 – 2 West Boldon Primary
It was a disappointing last league game but this does not overshadow a tremendous season. The team have shown a fantastic attitude, beautiful football continually and have really excelled as a squad. We finished runners up which is a pleasing achievement in what was a very tough league. However this means one thing – we are going for the league cup come Easter!
Come on EBJS!!
Mr Wilson

Game week 2 of Season 2016/2017
Captain Ned Cassidy Match Report
East Boldon v Hedworth Lane (3rd league fixture)
The game started and EBJ were on the front foot. It stayed that way for at least 5 minutes until they got a great chance. Maxwell had a clear sight of goal at least 1 yard away but no – he unfortunately hit the post. Even worse, at least a minute later, Hedworth Lane scored! However not even long after that Benjamin threaded a delightful ball through to Maxwell who tucked it in the bottom corner making it 1-1. That was half time. Second half began and  Hedworth Lane were looking good and sadly they tucked home another one. Defenders were unlucky, 1-2. This point it was close to the end and guess what it was?  3-1. Hedworth Lane were unstoppable to say the least.
EBJS 1 – 3 Hedworth Lane
East Boldon v West Boldon (4th league fixture)
The match began and EBJ must have been keeping their best to last. It was a cruise straight from kick off as we pressed harder and harder until Charlie scored. It was a stunning goal which the keeper had absolutely no chance, 1-0.   Zak, who was playing terrific, not long after sailed a tap in, 2-0. That was half time. EBJ had a few half chances in the second half but couldn't creep in the third goal.
EBJS 2 – 0 West Boldon
Manager's verdict
After a brilliant first week we now had the task of maintaining our high standards. The first game was a tough test against a good Hedworth Lane side. However we absolutely dominated the first half and unbelievably, after missing 4-5 very good chances, Hedworth Lane went up the pitch for the very first time and scored! We knew we could get back into the game and after we equalised I thought the game would be ours. Unfortunately I was wrong as we lost our way and Hedworth Lane scored two more. This meant we lost for the first time this season which was disappointing but there were many positives to take away from the game.
In our second game we played very well and comfortably got the 3 points by beating West Boldon. Well done to all the boys! There were some fantastic performances on show and it was good to see the Year 5's, our new recruits, perform very, very well.
Next week it is the first round of the County Cup and more league games so further tests await! Well done again EBJ!
Mr Wilson
Girls Football Game Week 1
Season 2016/2017
The girls put in an amazing amount of effort against some very experienced footballing sides. Their attitude was first class with their smiles on show regardless of a win, draw or loss. I look forward to seeing the girls get better and better as the league continues. Well done EBJ!
Results
East Boldon Team A – Won 6-0, Lost 4-0, Won 3-0
East Boldon Team B – Lost 3-1, Lost 4-0
East Boldon Team C – Lost 7-0, Won 2-1
Boys Football
Prior thoughts:
Well the season begins as here at East Boldon we attempt to retain the league title. It will be a tough ask but I'm quietly confident we can do it! We have a strong, positive team and if we all strive together as a unit then I have no doubt we'll be in with a huge chance.
 Game week 1 of Season 2016/2017
Captain Ned Cassidy Match Report
East Boldon v Cleadon (1st league fixture)
This was one of the tightest games of the whole league. The game starts with Cleadon at the kick off but as soon as it is took Maxwell intercepts; East Boldon's first attack. But the attack shortly ends with a shot boldly saved by Cleadon's star keeper called Matthew. East Boldon are on top despite Cleadon having a few half chances. Until the moment when Ben takes a fantastic corner which goes straight onto Ned's (me the captain!) head making it 1-0. Not long after the half time whistle goes. In the second half it did still end 1-0 despite the fact that it could have been at least 3-0 or 4-0 with the great chances East Boldon had.
EBJS 1 – 0 Cleadon
East Boldon v St Josephs (2nd league fixture)
A game East Boldon love to win. The game starts and already after a minute EBJ have their first attack which is tackled by a defender. St Josephs then begin their first attack and it only took a few minutes until they scored (1-0), a goal that was incredibly hard to save but unlucky for Joshua. Even worse for EBJ like literally only 5 minutes after the first they fire in the second (2-0). Literally a minute until half time we run through the heart of the defence but the keeper gets to the ball but  luckily Finley put home the first for EBJ (2-1). Then the half time whistle goes. We all have our hopes up for the second half. And as we all suspected we leveled up, MAXWELL heading it in the top corner! Unbelievably we then went 3-2 ahead, Maxwell again! He final whistle blew. We won! What a great come back!
EBJS 3 – 2 St Josephs
Manager's verdict
What an amazing start to our 2016/2017 season! Our two games showed what a quality team we are in two very different ways. The first against Cleadon showed a battling performance against a good side. We scored a great goal from a corner and then defended superbly to get our first 3 points on the board.
Our second game started poorly as we conceded within 15 seconds and then went 2-0 down. I knew, with the quality we had, it was possible to get back into the game it was just a matter of whether the boys had the determination and confidence to do it. I'm pleased to say they certainly did! The final 15 minutes we bombarded the St. Josephs goal and with only a couple of minutes to go Maxwell got a well-deserved winner! The team, crowd, and admittedly the manager went wild. Every single player played superbly tonight and we have set the high standards, which if we maintain, the league title will surely be ours. Well done East Boldon!
Mr Wilson